Guaranteed Quality & Satisfaction
Lifetime Quality Guarantee – only at Scuffbusters
Scuffbusters have the answer!
This is a really simple section. We have two key rules over satisfaction and quality:
We are often asked to cut corners on repairs, with comments like "I'm not worried about it looking perfect, as long as it looks better" or "I don't mind if the colour doesn't match perfectly, I can't afford for you to 'blend' the new paint across the next panel". It may sound harsh but we just don't take those jobs on, we get it right or we don't do it. Why? because although you may be happy that your repaired back door and the original front door are slightly different colours, but someone else will notice it and if they know the work was done at Scuffbusters they're likely to think that's our work quality. We work massively hard to maintain the great reputation we have for top quality work and aren't about to throw that away.
Our staff are highly trained technicians, with many years traditional bodyshop experience. We use the latest tools, materials and techniques to obtain results that withstand scrutiny by anyone. If anything 'goes wrong' with your repair at some point in the future, bring it back to us and we'll sort it out. No timescale limit, as long as the car is in the same ownership and you can produce a copy of our bill as confirmation, there will be no questions asked. We can count the number of instances this has happened on one hand. With fingers to spare.
So, with this quality & satisfaction guarantee, plus our Price Guarantee, Super Fast Turnaround and Free Courtesy Cars why wouldn't you use us?

We quote 'Up to 85%' savings over bodyshops, but we don't of course guarantee to save everybody that much every time.
We have many clients however who have saved this much (and even more), and our prices are routinely around half that quoted by others. Guaranteed Lowest Prices
We do guarantee our prices to be the lowest and if you obtain a lower 'like for like' quotation from a reputable local bodyshop (which we have never seen yet!!), then bring it to us and we guarantee to beat that price by at least 5%.
Although of course most of our customers tend to come from the Tunbridge Wells, Tonbridge, Crowborough and Sevenoaks areas, people routinely visit us from across Kent, Sussex and even as far afield as London and other parts of the UK. With prices for high quality work as low as ours, it's worth making the journey!
We also guarantee the quality of our work, and that it'll stay that way for as long as you own the vehicle, no matter how long that is! check our Quality Guarantee page for more info (and no, there aren't catches!).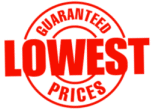 Scraped, scuffed or scratched car bumper?
Scuffbusters have the answer!
we always give the best price