Scraped, scuffed or scratched car bumper?
That's right. Use one one of our cars whilst we fix yours. Free.
OK, so we're the best thing since sliced bread because of our Quality Guarantee and our Price Guarantee, and we offer a Super Fast Turnaround, but even so, being without your wheels even for a day or three whilst it's at our car body repair centre may just not be an option for you.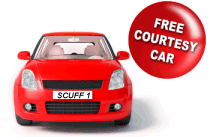 No problem. For all but the smallest repairs we have a fleet (OK, 4) of very late model Ford Fiesta's or Citroen C1 hatchbacks. OK, they aren't a Bentley, but they are mostly 5 door, will take child seats, are spick and span and most importantly will keep you mobile whilst we fix your pride and joy.
There are terms attached, but they aren't particularly onerous. They need to be insured fully comprehensively (See our Terms page for details) and we ask that you please return the car with at least the same amount of fuel that was in it when you took it. Otherwise we'll charge you a hefty fee, because there's nothing worse that a customer collecting a courtesy car with an empty tank… Other than that, as long as you hold a full license and are over 21, no problem. Check the small print on out Terms page.
Scraped, scuffed or scratched car bumper?
Scuffbusters have the answer!