"You want what done...?"We have been asked to paint all sort of things over the years, from 50 gallon oil drums for an exhibition stand, to a door from a JCB and various items of furniture, but a week or two ago even we had to raise an eyebrow...
An original, life-sized mannequin of a Star Wars Imperial Stormtrooper had been sold by local film-prop specialist Propmasters (see their website) and the purchaser was keen that it should be in as good a condition as possible.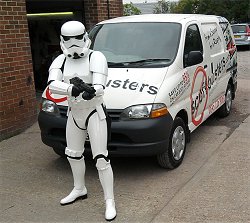 Over the years Darth's flunkey had picked up a few cracks, chips and knocks and we were happy to help in his restoration, repairing the glassfibre gelcoat where needed, and finishing it off with a nice new coat of 'Death Star White'.
During the works more than one customer rather stopped in their tracks after walking into our workshop and being confronted with the E-11 blaster rifle-toting Galactic Empire soldier.
We're happy to say that the customer was delighted with the end result, with the stormstrooper once again looking ready to hold off the Rebel Alliance (why was it these highy trained elite could never shoot as accurately as the good guys?).
We won't say we specialise in painting the weird and wonderful, but if it's worth it to you, and we can do it, we're usually happy to help!
Scuffbusters can save you £00's (or more...)
If your car is under some form of contract hire or lease arrangement you will probably know that if it's returned at your contract end with any damage you risk being charged.
The fact is that the lease company may not even bother getting the damage repaired - many ex-lease cars are sent 'as-is' direct to the car auction hall - but you will be charged for damage nevertheless because after all, the damage will devalue the vehicle.
When your car is collected it will get a very close check by an inspector skilled at spotting just about anything that isn't perfect. And don't go thinking that if the car's collected when it's dark or in the wet that you'll get away with that scuff low down on the sill. The car will get fully inspected back at base and it will be spotted..
For a guide to what is usually considered 'Fair Wear & Tear' by the British Vehicle Rental & Leasiing Association - check if your lease company is a member - we provide a guide here.
In general 'fair wear and tear' doesn't cover a lot, here's some examples;
You will often be allowed:
Minor bumper scuffs up to 25mm (1 inch) in length.
Small areas of paint chips
Small bodywork scratches up to 25mm long
A small dent up to 10mm providing the paint isn't damaged.
You won't get away with:
Any bumper or bodywork scratches over 25mm, or even less if the bare metal or primer has been exposed.
Multiple dents on the same panel, even tiny ones
Alloy wheel scuffs greater than 25mm
Lease car companies are usually very helpful and if you call them they will be able to tell you their standard charges for any damage your car has incurred.
Feel free to pop in any time for us to look at any damage your car may have collected and to chat through the implications and solutions.
In our experience our repair costs are significantly less than those the lease company will charge. Let us sort out your car before it goes back and you could end up saving a small fortune....